In this digital era, almost every student has prepared a presentation for school at least once. And thanks to the latest apps, you can be creative with your slideshows and format slides to suit the topic you present. Whether you need a professional-looking, nature-themed, or laid-back appearance, there is a way to achieve it.
The best thing about these tools is that you can be original and not fit the mold. You no longer have to follow a specific template and do as everybody else does, but infuse your presentations with personality and character.
PowerPoint is the first software that comes to mind when somebody mentions a presentation project. However, there are many other options with advanced properties you can explore. These apps offer convenient features that facilitate collaboration and quick preparation.
Novel online presentation tools improve and exceed the classic slideshow experience. They boast AI elements that hook your viewers' attention and streamline the sharing process. Consider these five suggestions to turn your presentation into a unique and interactive conversation.
What Makes a Great Presentation App?
Many apps for creating presentations compete for the attention of users. Moreover, when looking for the best option, you must consider several aspects, including:
Affordability. The pricing of presentation apps is critical when making the final decision. If your choice is costly, you can hire presentation writers at Edusson without paying over the odds. However, there are several excellent free apps you can download and use without spending extra money. Also, some providers offer 30-day trials or the basic version for free.
Custom-made templates. Go for a presentation tool with in-built templates where you can create compelling slideshows when strapped for time.
Cooperating and sharing. Most projects involve several people working simultaneously. For maximum efficiency, consider using an app that allows you to share your slides or collaborate remotely in real time.
Presentation design and flexibility. Software that enables you to optimize all projects is preferable. It's also advisable to decide whether you prefer slide or canvas shows. Opt for an app that embeds various content such as images, audio, video files, or graphics.
Platform compatibility. Apps compatible with different screens that work across many platforms are perfect because not all devices use the same operating system.
The Best Presentation Tools for Students
The alternatives we outline below have exceptional functionalities that meet the needs of various users. For instance, choose blank canvases if you are keen on creating from scratch and presenting unique content. Conversely, go for ready-made designs if you find customized templates less time-consuming. Whatever you pick, here is our top-five list.
PowerPoint
Undoubtedly, PowerPoint is the most widely used software for making slideshows. Its popularity is global, and there's evading it when discussing this topic. PowerPoint never falls behind its competition and constantly updates its assortment.
And while some call it tedious, outdated, and without advanced functionality, the reality is different. You can make an effective PowerPoint presentation, particularly if you have the latest 365 version. Its developers have even created a Prezi-style variant. PowerPoint features include HD video export, 3D model animation, Zoom, reusable templates, and scalable vector graphics.
Google Slides
The Google-based software offers cross-platform compatibility with minor layout alterations. Moreover, it allows users to co-author projects in real-time. Since it is part of the Google Workspace, the app contains many free features as long as you own a Google account.
Though Google Slides has a limited selection of templates, users can import or create new ones. In addition, you can insert anything you have on your Google Drive, including images and videos. However, the graphic assets are a bit generic.
Prezi Next
Next is an improved version of the original Prezi app. Although the original software was excellent, it vanished with the downfall of Adobe Flash. Users liked Prezi because they felt their work was unique and a world for itself.
The upgraded Prezi Next version runs thanks to HTML5. The good news is that it kept its authentic feel, and users can still create interesting, detail-oriented, informative presentations full of functionality. Since Prezi integrates with apps such as Zoom and Google Meet, students can also use it live.
Finally, Prezi isn't free to use, but the provider offers a trial period. The Standard package costs $7 a month, the Plus version is $12, whereas Premium Prezi starts at $16 per month.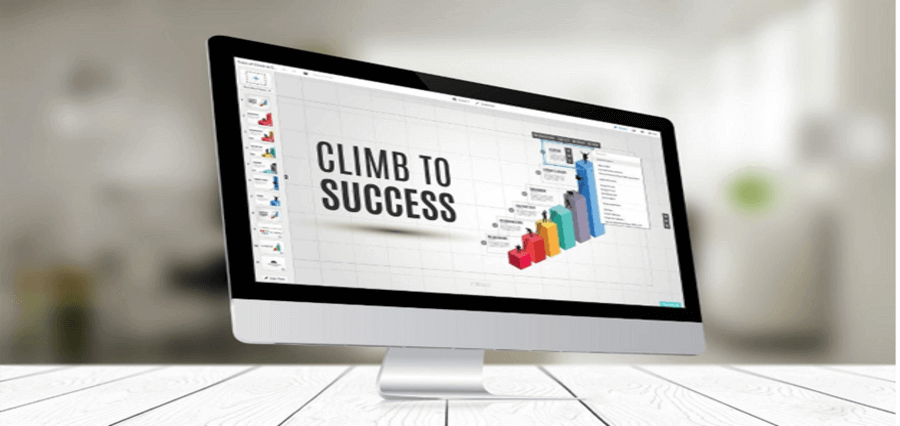 Canva
Canva is a platform for a wide range of publications, including resumes, business cards, newsletters, infographics, and brochures. However, it also allows users to create presentations. Canva offers over 250,000 templates and 100 design types. Users can upload their images or use and adjust over 1 million Canva photos and graphics.
The free version has many features and is ideal for individual users, startups, and small businesses. Larger organizations can pick Canva Pro or Canva for Teams, which cost 119.99 and 149.90 a year, respectively. These packages feature unlimited media, designs, templates, and content. Their trial versions last 30 days.
Venngage
Venngage is handy for making professionally-looking slideshows. It features numerous pre-made but customizable layouts. Thanks to the available photos, icons, and charts, you can create infographics and visualize data.
This presentation software is excellent because you can demonstrate projects anywhere at any time. Plus, it allows you to export files into PowerPoint. Users may also download Venngage projects into PDF and PGN formats or share links to various apps and social media. The starter package is free, and the other options range from $16 a month (Premium yearly) to $499 for Enterprise.
Conclusion
Projects that involve a presentation full of visual aids are frequent in high school and college. The presenting skills you'll learn will also help you land a job. However, drafting a good presentation can be challenging if you don't have the proper tools.
Hopefully, this list will help you make the right choice. And while there are alternatives to the ones described above, our suggestions are 100% functional, fun, and user-friendly.