Everyone experiences the changing context of business today: physical health (COVID), emotional well being, society trends, political toxicity, attention to environment, and technological innovation. To respond to this context, business leaders are investing in human capability (talent, leadership, organization) to deliver value to all stakeholders.
An enormous amount of research and practice exists in upgrading human capability Dave Ulrich, Rensis Likert Profess at the Ross School of Business, University of Michigan and Parter, The RBL Group has spent his career studying, innovating, and delivering human capability insights that make a difference.
Dave answers some questions about his past and present work.
Dave, please introduce yourself and your professional background to our readers.
I am a professor at the Ross Business School at the University of Michigan and a founding partner of the RBL Group. I like to study how organizations think, act, feel and create value for all stakeholders (employees, customers, investors, and communities). I believe in insights based on theory (why things happen), research (evidence about what happens), and practice (how to shape what will happen).
What was your inspiration to step into the business consulting and development profession?
Decades ago, in my undergraduate work, I took an "OB 321" course from a remarkable professor who challenged us to observe, think, and write about the organizations that shaped our lives. I wrote a 10-12 page paper weekly about aspects of organizations. He then encouraged me to move from focusing on the law to "OB." When I told my parents I was going into "OB," they thought I would become a doctor since no one knew what "Organization Behavior" really meant. Since then, I have had a version of OCD, "Organization" Compulsive Disorder." Organizations shape nearly every aspect of our lives – where we work, play, live, and worship. Studying and figuring out how to improve organizations continues to captivate me.
Tell us about RBL Group, its mission, and its vision. What role did you play in furthering its development and outreach?
About 20 years ago, Norm Smallwood and I found ourselves cooperating on several projects. We did a book (with Jack Zenger) called Results Based Leadership which focused on our bias of ensuring that leaders created results. We took RBL as our firm name since we are committed to results.
Please brief us about the programs and services offered by RBL Group. And how does it enable client companies to enhance their operations?
We have committed to innovative content (be a thought leader) in what we call "human capability," which includes the study of talent, organizations, leadership, and HR.
We work to connect each of these domains inside an organization to the value outside and believe that future of work is both inside/out and outside/in.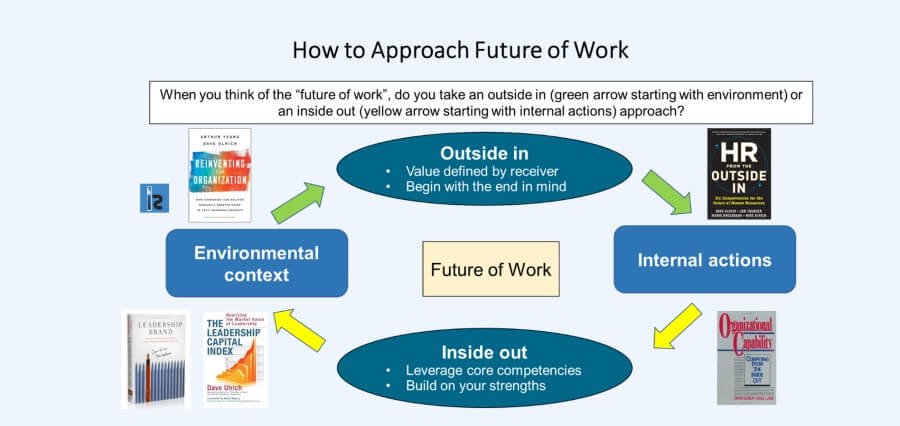 Dave, tell us about the books that you have written. How have they been received by the readers?
We have written over 30 books, each addressing a specific challenge in one of the four human capability domains. For example, we have written quite a bit on leadership and how leaders should connect their attributes (competencies or skills) to results in a sustainable way.
Please share with us the remarkable challenges you have overcome in your career. And how have they shaped you to become a better leader?
I often step into the unknown and try to solve problems few have solved. This means observing challenges and then seeking innovative solutions to them. In the process, I often experiment with new ideas that don't work well at the time. For example, why do two firms in the same industry with the same profits often have dramatically different market valuations? This does not make sense initially, but this question leads me to explore the intangible value investors recognize but don't often codify. This leads me to write Leadership Capital Index to offer investors a rigorous way to determine leadership quality. Some of these ideas were well received at the time, some not.
What tips would you like to give individuals who want to get into the writing profession?
Make ideas your best friends. Ideas often wake me up late at night or in the morning; they stay by me much of the day and end the day with me. Ideas come from observing what is happening around me and trying to understand why things happen (theory). Ideas need to become patterns through research and evidence to predict what will happen. Ideas must shape talent, leadership, organization, and HR (human capability) choices and actions. Writing is the art and science of putting ideas into words into a framework into text and ultimately into a book, article, or presentation. Writers seek to codify ideas with impact.
As an experienced leader in the business arena, what challenges do you see leaders of today come across? Also, what advice would you like to give to budding entrepreneurs?
The study of leadership is not new. Google leader or leadership, and you get over 5 billion hits! Given our research, we like to explore patterns of leadership in five areas (see book Leadership Code), and we see emerging leadership skills in each of the five areas
Where do you see yourself in the future? Also, how do you envision scaling RBL Group's operations and outreach in the coming years?
OCD is a lifetime disorder. We continue exploring innovations in each of the four domains of human capability through theory, research, and practice. I like to end workshops with the line, "the best is yet ahead," which I hope shapes my work. I want to have about 20% new material every 12 to 18 months, which sounds easy, but requires a good idea, friends.
Give us a few testimonials from your clients or customers and awards or recognition that accurately highlight your company's position in the market. (If available/permissible)
Here are a few accolades
* One of the top 10 voices on culture by Linkedin
* Lifetime Achievement Award from Institute of Management Studies
* #3 (out of 200) thought leader in 2021 by PeopleHum
* "Most Influential Global HR Leader, 2021" sponsored by PeopleFirst and HRD Forum
* Distinguished Fellow (one of 15 total), National Academy of Human Resources
* Initiated the Dave Ulrich Impact Award by the Academy of Management to honor contribution to HR
* Ranked #1 thought leader in HR by HRD Connect
*Named one of the 20 most influential business professors in the world by top-business-degree (#13)
* Named to the Thinkers50 "Hall of Fame," a recognition of lifetime achievement in influencing management
*Lifetime Achievement Award from HR Magazine for being the "father of modern human resources."