Medicare is a popular health care program for American citizens aged 65 and older as well as some younger people who meet eligibility criteria. There are four parts to this program and it covers many significant medical costs for its members. Preventing the most widespread issuers will help you get the best health coverage for the most affordable price. In this article, we are going to talk about the ways to select the right Medicare plan and avoid common errors.
Widespread Medicare Mistakes
Generally, health care is extremely expensive in the USA so many people have to choose the best loan options for fair credit as they can't cover all the medical expenses using cash. Besides, many consumers don't have enough savings to finance treatments or urgent surgeries.
While getting a personal loan to cover immediate medical needs can be lifesaving, learning how to take advantage of this government program is even more beneficial. There are some mistakes people often make during the Medicare enrollment period. If you want to get all the benefits of this health care program and prevent errors, here is what you should watch out for.
#1 Medicare Deadline
One of the major mistakes consumers make is failing to sign up for Medicare at the right time. Have you turned 65? Do you get Social Security? Then there is nothing you need to do as you will be enrolled in this government-run program automatically. The initial period for enrollment starts three months before you turn 65.
#2 Not Educating Yourself on Inflation Reduction Act
If you visit the official Medicare.gov platform, you may find advice on how to save funds with the Inflation Reduction Act for those who have Medicare. This Act is meant to strengthen the Medicare strategy and boost access to affordable treatments for American consumers. According to the Inflation Reduction Act, you may benefit from:
Improved Part D coverage and lower drug costs. Starting in 2023 consumers won't need to pay a deductible for insulin, while the cost of the monthly supply of Part D-covered insulin will be capped at $35. Additional assistance to afford prescription drug coverage will expand to some Americans with limited financial resources and those who live below the poverty line, starting in 2024.
Lower drug prices. Medicare will negotiate cheaper drug prices directly with producers and manufacturers.
Better access to vaccines. Consumers won't need to pay for vaccines starting in 2023 provided that they are covered by Medicare.
If you require free personalized health insurance counseling or want to get additional information, you may contact your local State Health Insurance Assistance Program (SHIP).
#3 Failing to Sign Up During Special Enrollment Period
Those who retire when they are 65 or lose their health care coverage through their spouse have the right to sign up for Medicare. A special enrollment period of eight months after you lost the coverage can be used to enroll in this program. In addition, citizens who moved to another place and don't live in an area of their current Medicare service may also benefit from this special enrollment period. Besides, consumers who have been released from jail or moved out of a skilled nursing center or any other institution may also qualify for Medicare.
#4 Choosing the Wrong Medicare Coverage
Failing to select the right coverage is one of the major errors that can cost you money. Medicare Parts B, C, and D have a monthly premium but Part A is free of charge. At least Part B is needed to have enough health care coverage to be able to visit doctors. It will cost you $164.90 to get the standard premium in 2023. This sum will be deducted from the monthly Social Security benefit of the person. Another name for Part C is Medicare Advantage Plan. Such a plan can be offered by private companies. This plan will cost you $18 each month in 2023. Plan D is projected to cost $31.50 per month next year. Each plan that provides prescription drug coverage through this Medicare Part D needs to offer a minimum standard level of coverage.
#5 Failing to Check the Insurer's Formulary
This is a list of all the medications that your health care plan covers. Make certain to request the current insurer's formulary before you sign the agreement and enroll in this program whether you are choosing a Part D for prescription coverage, an original Medicare plan, or an Advantage Plan.
Of course, this formulary may be altered throughout the year but it's necessary to look through it regularly. It will help you avoid paying for medicine out of your own pocket if it's not stated on the formulary.
Additional Facts about Medicare
Medicare is a significant public health insurance model for American adults aged 65 years old and over. What is the percentage of US Americans covered by Medicare for the past twenty years? About 18.4 percent of the American population was covered by Medicare as of 2021, which is a higher number compared to the previous year. Speaking of the states, Texas, California, and Florida had the largest number of Americans aged 65 and more.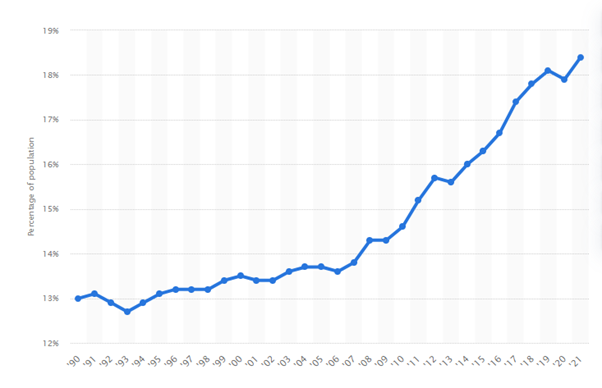 According to Statista, approximately 25 percent of US adults who are covered by Medicare have poor or fair health. There is a lot of concern about who should help or pay for the elderly healthcare in the long term. Consumers have been surveyed the half of the adult respondents claim that health insurance companies should be responsible for covering elderly care. Besides, the whopping majority of Americans believe Medicaid should also support consumers. There are still a lot of debates on this issue in the USA.
The Bottom Line
Summing up, Medicare offers people various options to select from. You should take some time to learn about its parts and avoid common errors to choose the best coverage and have your health covered once you retire. Professional aid and consultations may help consumers prevent mistakes and get their significant medical expenses covered.